Spiritan University Nneochi Matriculates Its Pioneer Students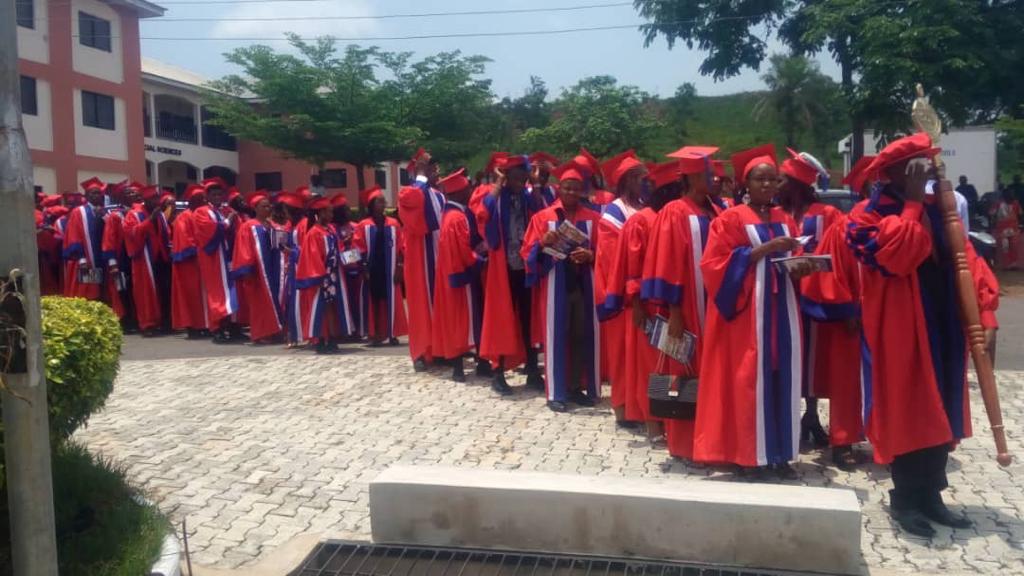 On March 23, 2019 Spiritan University Nneochi, Abia State marked three highpoints in its development as a University Community with the Formal Opening, Inauguration of Board of Trustees Members and the First Matriculation ceremonies. The occasion was greatly graced by men and women of State, Church and Academia from far and near. Among the dignitaries from International communities was Professor Dr. Gerald Boodoo, representing President Ken Gormley of Duquesne University of the Holy Spirit, Pittsburgh, USA.
While inaugurating the Board of Trustees, the Visitor of Spiritan University Nneochi, Very Rev Fr. Dr. Greg Olikenyi, CSSp (Provincial Superior, Congregation of the Holy Spirit, Province of Nigeria South-East), thanked the members for accepting to serve in that capacity and briefly reminded them of their responsibilities and competencies. He equally expressed gratitude to the Vice-Chancellor, Very Rev Fr. Prof Remy N Onyewuenyi, CSSp, his management team, and heads of various faculties and units, for the achievements so far recorded in the new University. The Visitor pledged his full support in the development of the University as a world class University. Responding on behalf of the Board of Trustees members, Very Rev Fr. Arc Prof Peter C Agbonome, CSSp, thanked the Visitor for the confidence reposed on them and promised that they will move the University to the next level.
The Vice-Chancellor, Professor Remy N Onyewuenyi, CSSp, in his own address, expressed gratitude, on behalf of the Proprietors, the Governing Council, Senate and entire University Community, to all who found time to be present at the occasion. He equally had words of recognition and gratitude to all who have contributed to the establishment of the University, especially the host communities of Amaja, Obulo, Umudim and Uhuolugho for donating 114 hectres of their land on which Spiritan University is situated. The Vice-Chancellor paid glowing tributes to pioneer staff, pioneer matriculated students and their parents and guardians for choosing Spiritan University Nneochi. He assured them that they are at the right place and in the best of hands spiritually, morally and educationally, as the core values of Spiritan Education are second to none. (For details, see attached Vice Chancellor's Address).
Also speaking at the occasion, Professor Dr. Gerald Boodoo, representing President Ken Gormley of Duquesne University, Pittsburgh, USA, conveyed the good wishes of the President of Duquesne University and the assurances that the partnership of the two Universities will mutually enrich our Universities' programmes.
Accompanied pictures of the occasion: